This is a quick & easy way to conceal your tattoos! This concealer is so convenient for hard to reach places. (mine is located on my upper back)
This product is Dermablend's Quickfix Full Coverage Concealer, my shade is Caramel. This product is perfect for dark circles, burns, scars, blemishes, age spots, and of course tattoos! You can purchase it at dermablend.com for $18. I use this product alone, without any setting powders, primers, etc. So it's totally worth it!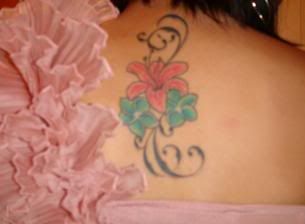 Now you're tattoo-free!!!
*That pink ruffle on the left side is part of my shirt, in case you were wondering :)